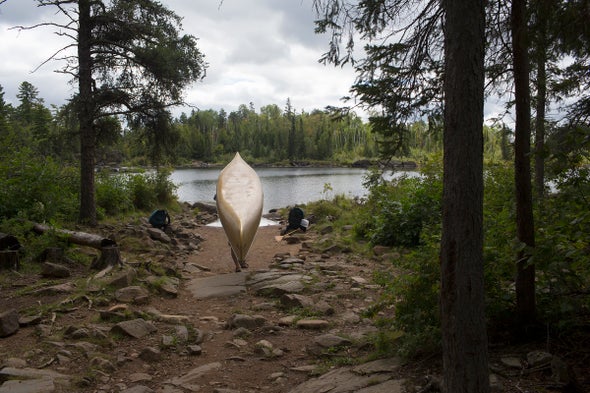 Here is our next installment of a new pop-up podcast miniseries that takes your ears into the deep sound of nature. Host Jacob Job, an ecologist and audiophile, brings you inches away from a multitude of creatures, great and small, amid the sonic grandeur of nature. You may not be easily able to access these places amid the pandemic, but after you take this acoustic journey, you will be longing to get back outside.
Strap on some headphones, find a quiet place and prepare to experience a thunderstorm—and a lazy day of waiting that storm out—inside the Boundary Waters Canoe Area Wilderness in northern Minnesota.
Catch additional episodes in the series here. 
Today, we canoe into the wilderness.
In today's episode it's June and we've made our way by canoe several miles into the Boundary Waters Canoe Area Wilderness in northern Minnesota. Situated along the Canadian border, the Boundary Waters contains thousands of lakes and ponds, and miles upon miles of rivers and streams within the over one million acres of federally designated wilderness. We'll spend a slow afternoon hunkered down in our tents listening to a passing thunderstorm. Once it's safe, we'll continue our lazy day next to the lake's edge where we'll identify some of the songbirds who weathered the storm with us while we listen to the beautifully intricate details of the post-storm waves as they lap the shore. Let's go for a walk.
We're situated on the shores of the Kawishiwi River in the Boundary Waters. It's day two of a five day paddle through the wilderness. Yesterday we enjoyed calm weather and blue skies while we navigated the twists and turns of the river. What was supposed to be a day of canoeing has turned into a quiet afternoon waiting for a thunderstorm to pass by. Those are the breaks I guess. Luckily our route is moderately short, so we can afford to take a day off and recover from yesterday's paddle. Rain can dampen any trip outdoors, but I really like days like this where I get to slow down and notice the details in nature around me. It's also a good opportunity to sit back and reflect on life and what's important. Let's settle into our sleeping bags and enjoy this early summer storm. 
We're not the only ones out here. There's a Mourning Warbler just outside our tent. I bet it's hunkered down inside a dense bush. Maybe when the storm is over we'll get a chance to see it. Looks for it's olive yellow body, dark gray hood, and black bib on its neck.
It sounds like the rain might be letting up a bit. The sky looks to be brightening as well. Let's wander down to the shore and see what's going on.
The world always feels so clean and refreshed after a rain. Almost like the dawn all over again. 
The birds have come back out. You can hear our Mourning Warbler in the distance.
There!
I'm not usually a fan of windy days, but it's pretty neat how the wind picks up after a storm and helps dry out the land. It also sounds nice as it moves through the pine needles above us.
A couple of Canada Geese are out by the island.
Listen to their echoes.
Let's make our way along the shore to the small bay just around the corner. I noticed it yesterday when we arrived and wanted to check it out.
The waves sound slightly different here, but just as unique. The birds have really picked up as well!
Here comes a Blue Jay. Hear that loud, harsh cry? Their calls always make me think of stormy weather or crisp fall mornings.
Listen off to the left. There's a Winter Wren singing. Listen for its long series of jumbled notes.
There!
It actually sounds like there's another distant male to our right.

   

You may have noticed that loud, ringing song above us. 
There.
I'm not positive, but I'm pretty sure it's a Yellow-rumped Warbler. Birders call them "butter butts" because of the bright patch of yellow feathers on their butt.
There it is again.
This song is not their typical song so it's a bit confusing. Even after fifteen years of birding, I still have much to learn.
Huh! My favorite species. The Common Loon. Can you imagine a more perfect sound in a more perfect place?

 

The wind is really picking up.
Did you hear that? It's my favorite species of warbler.
There!
It's a Canada Warbler. Look at it's bright yellow breast and black necklace. So striking!
Well, I'm a little cold. I'm going to head back to camp and try to build a fire. Maybe I'll start dinner as well. Thank you for joining me. I'll see you on our next National Park Nature Walk.
ABOUT THE AUTHOR(S)
Jacob Job is a conservationist, scientist, science communicator, and field recordist looking to take conservation efforts to the next level by engaging the public on issues related to biodiversity, sustainability, and land conservation and preservation using natural sounds recordings, education and stewardship. He is a member of the Sound and Light Ecology Team at Colorado State University.